1. Waste less time waiting in the station and virtually eliminate transfer time
A smatter of fact, the distance from Paris to Geneva is around 400 km. The flight time is around 1 hour, versus 3 hours with TGV Lyria. But unless you live right next to the airport, taking the train will save you time because getting to the station is often much quicker. In other words, it's not the time on board that counts, but the total time spent travelling door-to-door.
     Depart from the Gare de Lyon in the heart of Paris, which is easy to get to by public transport.
     Arrive at Geneva's Cornavin station, also in the city centre!
The locations of the railway stations themselves are an obvious timesaver: no long, tiring and often stressful transfers to and from the airport. The train takes you directly from one city centre to the other!
And there's no need to check in either. While airlines recommend you arrive at the airport two hours before your flight takes off, you only need to arrive at the station a few minutes before your train leaves. In fact, passengers can arrive anything up to two minutes before the scheduled departure time!
No waiting around, no checking in, no stress. With TGV Lyria, once the train is ready, you simply climb on board and away you go!
2. Make better use of your time on board a TGV
The fastest journey from France to Switzerland with TGV Lyria takes 3 hours and 03 minutes – perfect for getting on with your work, watching a film or just browsing on your computer. 
During an hour-long flight, however, you hardly have time to get your computer out before you're told to switch off all devices ready for landing. On the train, there are no limits: you can make the most of every minute.  
But it's also the perfect amount of time to relax, read a good book or enjoy a well-deserved nap. 
There are no restrictions on using your devices. While you cannot make or receive calls on a plane, you can on a TGV! You can call from any of the platforms between the carriages and send as many texts as you want from the comfort of your seat. 
What's more, electric sockets are provided for all passengers to charge their devices in both first and second class.
3. Enjoy greater comfort and a catering service on board
Besides the fact that there's more room to move around than on a plane, there are many other reasons why travelling with TGV Lyria is far more enjoyable. 
There's a catering car for all passengers in the middle of the train, offering a wide range of snacks, hot meals and drinks.
Since December 10th, all passengers enjoy a new high quality catering offer.
In STANDARD and STANDARD 1ÈRE, a new at-seat sales service offers a selection of fresh and tasty snacks.
In BUSINESS 1ÈRE, travelers can now enjoy a hot meal at seat, as well as personalised services from the dedicated on-board staff and international newspapers!
And for families, in particular, the train is a really fun way to travel. With the seats arranged in fours around a table, parents and their children can enjoy each other's company throughout the journey.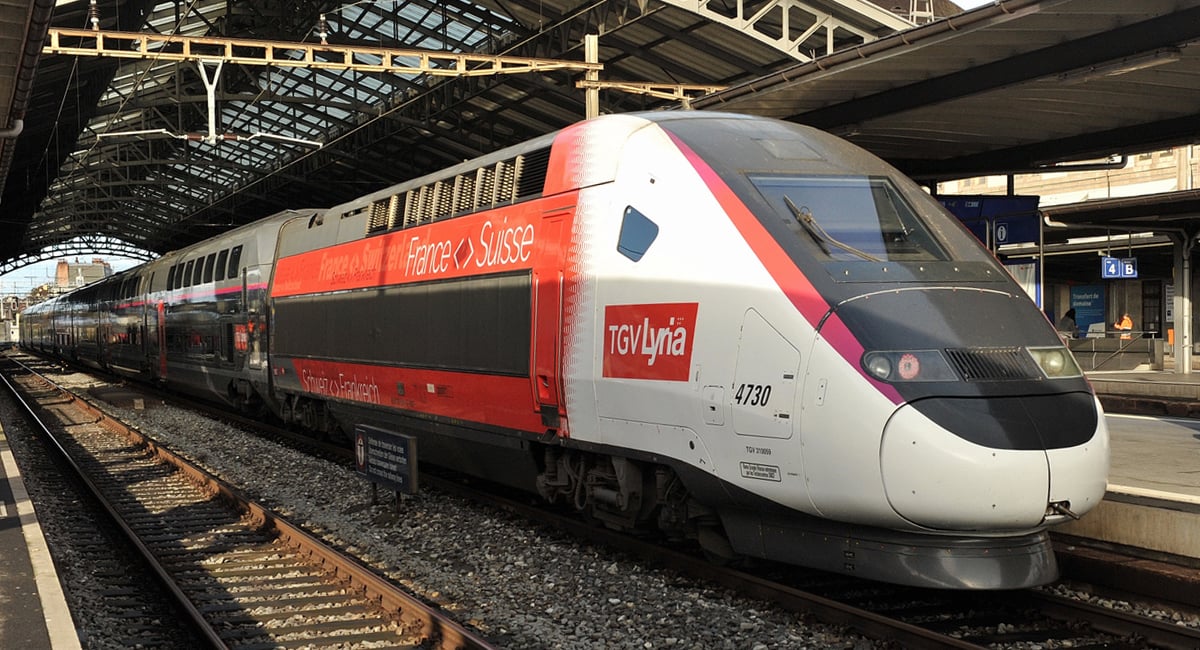 4. Forget those baggage worries
Your luggage is a central part of any journey. The practices of airline companies – between size, weight, checking in and excess baggage costs – are well known to all.
With TGV Lyria, these worries are a thing of the past! There are several luggage storage areas available in each carriage, making life easier for families, who are often weighed down with bags.
As an added bonus, you can even bring along small pets for free!
The further ahead you plan, the less you pay. If you reserve up to 4 months in advance, you can pick up tickets at some very affordable prices – from just €29 (CHF 31) for a ticket from France to Switzerland (and vice versa) with TGV Lyria! 
And there are other ways to buy inexpensive TGV tickets. Just head over to our Buying cheap train tickets page! It's full of money-saving tips for your France <> Switzerland trips.
Between the attractive prices, on-board comfort and optimised journey time…it's an obvious choice! For all your France <> Switzerland trips, choose TGV Lyria!
Book your trip
Book your trip
With TGV Lyria